Document Management Solutions
Our enterprise software solutions bridge the gap between your ERP system and the real world processes you manage every day, giving you the control and visibility you need to improve operations.

Our solutions make business process management easy to implement on your terms and budget.  As your business evolves and your needs shift Truni can help going along with you as a partner.  Build on one of the three basic elements of our solutions to begin your journey to take control of your unique business processes.  All of the solutions can be deployed on-premises or on a  secure cloud.
Our Solutions
Output Management
Document Management
Business Process Automation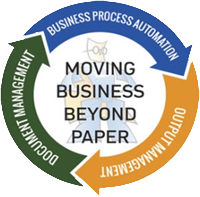 We will deliver business value for your:
Accounts Payable Invoice Automation
HR Automation
Document Management
Workflow Automation
MICR Cheque / Form Printing
Verticals we serve:
Hospitality & Gaming
Restaurants
Manufacturing & Distribution
Media & Telecommunications
Government & Education
Financial Services
Other